What we raised money for in 2014
Last year, Cracker raised money in support of Fashion With Heart Creations. Your money helped towards the training of the young women of Bangalore in the hope that it will provide a career in the textile industry and improve their quality of life.
Fashion With Heart Creations was able to expand by opening a new training unit in Bangalore, next to the Jacob's Well production unit. This new unit has expanded the number of training opportunities available to underprivileged young women as well as refining the training scheme to continue to make it relevant to the textile industry. They have also been training women in a village south of Bangalore. This village is home to a silk farm where the material produced is sold for an unreasonable price. Fashion With Heart Creations aims to teach women how to screen print raw silk into sellable products so that these women can earn a fairer wage.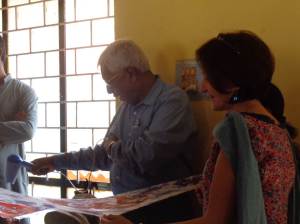 Secondly your donations may also help expand Fashion With Heart Creations into Nepal.
---
Why Nepal?
As many as 20,000 girls as young as 9 years old are being sold or lured from the poorest parts of Nepal by promises of a better life and a greater source of income for desperate families. These girls don't have Grade 10 (GCSE) standard of education to be able to find work in industry and end up in Indian brothels or used as domestic servants in the Middle East. Many of these women end up HIV positive and could be dead before 20.
Fashion With Heart Creations wants to expand into Nepal to set up another training facility to help these young women find skilled employment and improve their quality of life. By educating these young women to complete Grade 10, it would not only increase their value to their families but increase their self-esteem as well. Fashion With Heart Creations will then provide additional specialist training to help them be employable in the fashion industry.
 What is Rugby Christmas Cracker, Where your money went in 2013, People helped by Fashion With Heart Creations, Appeal
Your money helped produce a training manual which has been used by other charities as a tool for training women from other slum areas in India.